Salon.Spa Services
Hair Design
You may desire a simple, modern, classic, contemporary or edgy look. We have an eye for hair design and cutting edge style. There are many factors that go into choosing the perfect hair style; such as demographics, profession, personality, face shape, hair type, and of course-personal preference! We consult with you to ensure that you get exactly what you want.
Men's Haircut
Women's haircut with blowdry and style
Blowdry and style
Wedding and Special occasion hairstyle (onsite services available)
Long lasting keratin hair smoothing and straightening (formaldehyde free)
Beach wave
Hair Therapy
Give your hair some much needed therapy. Our RECHARGE MASQUE is a firming 2-step conditioning masque that restores and restructures devitalized hair.
Intensive Recharge Masque
Keratin deep conditioning treatment
Hair Color
From colors that are shiny, sleek, and sophisticated, to glowing highlights or intense vibrant colors, we have the shade for you. Our many exclusive coloring techniques offer you whatever look you desire! We use only the best, most professional colors that condition while they process.
Single and double process color
Color retouch
Color correct-removing that experimental color that you just can't stand!
Highlights and lowlights
Intense, vibrant or pastel designer colors for that fun, festive and flirty color!
Specialty color designs
Nails
Pamper your busy nails, hands and feet in the Blu Bambu nail spa.  Relax  in the peaceful warm water, take in your amazing oceanfront view, and enjoy a soothing massage.  We have a huge selection of authentic O.P.I Polish and GEL POLISH to choose from!
Blu Bambu Signature Manicure and pedicure
Classic Manicure and pedicure
Spa manicure and pedicure-go all the way and pamper your hands and feet!
GEL POLISH manicure and pedicure!
Smoothing paraffin dip treatment
Intense callus removal treatment
Classic french manicure or pedicure
Makeup
Flawless skin, irresistible eyes, and the perfect pout are a few accessories that will always be in style. Spoil yourself in the studio with our exclusive makeup services.  We believe that makeup is designed to enhance your own beauty, and with our extensive experience, creativity, and professional products, you will leave looking just as good as you feel!
Wedding or special occasions makeup application (onsite service available)
Studio makeup application
Divulgencemakeup lesson (groups welcome)
New Image Design
Wax
Relax, it's ouch-free! Our newly engineered, professional wax makes your next hair removal service quick and comfortable. Sensitive skin? No worries, our cream wax is made especially for you! Choose one or more of our professional waxing services.
Eyebrow wax
Lip wax
Chin wax
Side of face
Full face wax
Gift Certificates
Feel good from the inside out! Treat someone special to a gift certificate from Blu Bambu so they may experience the ultimate joy! Choose a gift package described below, customized your own package, or purchase any dollar amount and let them choose their own services!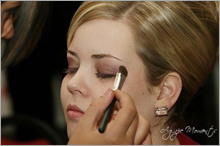 Islander On-the-Go
Hair Wash and Blowdry Style
Classic Pedicure
Brow Wax

Beauty Break
Classic Manicure
Classic Pedicure
Studio Makeup Application

Essential Day of Beauty
Hair Therapy Intensive Recharge Masque
Signature Manicure
Signature Pedicure
Brow Wax
Divulgence makeup lesson