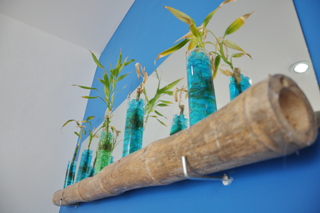 BluBambu Salon.Spa is a full service salon, meaning we don't just cut or color your hair. We're here to style you, and keep you looking your best. We specialize in all the latest trends, from soft and natural to the most head turning transformation.
BluBambu Salon.Spa offers a full range of nail care services, including manicures and pedicures and can assist you with make-up techniques, hair styling, wardrobe selection and much more.
Katie Jackson brings her unique talents to this Caribbean paradise. Her impeccable attention to detail brings a fresh approach to hair artistry. If you're looking to shine for a special event, such as a wedding or fundraiser, or just want to polish your look, Katie's expertise is essential! Never before on the island have services of this caliber been available to everyone, a world class salon right here in Cozumel.
About Katie Jackson
Katie burst onto the Minneapolis/St. Paul scene in 2004, where she teamed up with a high fashion salon and branding studio. She expanded her talents through training camps and cutting/coloring classes through various cosmetic, hair product, and styling tool companies such as Mac, Bare minerals, True Colors, Clinique, Sexy Hair, Redken, Matrix, Graham Webb, and Hot Tools.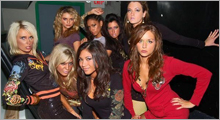 She quickly embraced her passion for fashion and jumped into the fast paced world of Runway, where she not only took on hair and makeup, but also wardrobe styling and runway coordinating as well. It didn't take long before she was working with high profile clients such as Ed Hardy, Len Druskin, Rena Mero, Bebe, and Victoria's Secret. Her coveted talent, drive and ambition have made her an industry leader. She is an extremely well rounded artist with extensive experience working with weddings, runway shows, professional ballroom dance competitions, beauty pageants, industry meet and greets, television and news professionals, photo shoots, magazine print and advertisement.
Katie has also worked with various charities and coordinated charity events such as Rock the Cause, Treasured Chests, and St. Baldricks. Here on Cozumel, she is an active volunteer at the Cozumel Humane Society, and the Cruz Roja.
"At the end of the day, you are my artwork." ~ Katie Jackson